Belling GHU602GC 444410131 Gas Hob Stainless steel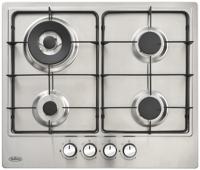 Click to enlarge photograph




Click thumbnail to select
Key Features:
4 x Gas Burners
1 x Wok 1kW-3.6kW
2 x Medium 2.0kW
1 x Simmer Burner 1.0kW
Auto Ignition
Flame Safety Device On All Burners
Removable Control Knobs
Cast Enamel Pan Supports
Height: 101 mm
Width: 600 mm
Depth: 510 mm
Star Buy
GHU602GC
60cm stainless steel gas hob with powerful 3.6kW wok burner and cast enamel pan supports. Additional features include auto ignition and a flame safety device.
Gas Hob
A gas hotplate with various sized burners gives you maximum cooking control, the heat change is immediate and precise so you can simmer gently as well as boil.
Specifications
Fuel Gas
Warranty Period1 Year
Hob Summary
Number Of Burners/Elements 4 Burners
Burner/Element 1 (kW) Large (3.6)
Burner/Element 2 (kW) Medium (1.75)
Burner/Element 3 (kW) Medium (1.75)
Burner/Element 4 (kW) Small (1.0)
Pan Support Type Cast Enamel
Ignition Type Automatic
Flame Safety Device Yes
Wok Burner Yes
Control Type Front Rotary
Cast Pan Supports Yes
Matte Burner Caps Yes
Bright Aluminium Burner Skirts Yes
Easy Clean Surface Yes
Accessories
LPG Conversion Kit (Available Separately) Yes
Removable Parts (For Cleaning)
Hob Burners Yes
Pan Supports Yes
Installation
Gas Type Nat Gas (G20)/ LPG (G30)
Gas Category II2H3+
Gas Inlet Type Gas Elbow Connection
Gas Inlet Position Bottom Rear
LPG Convertible Yes
Hard Wired Yes
Terminal Block Position Base Rear
Supply Voltage (V) 240V
Supply Frequency (Hz) 50Hz
Lead Length (Metres) 1.0m
Total Gas Power Load (kW) 8.1kW
Fuse Size (A) 13A
Fitted 3 Pin Plug Yes
Packed Dimensions
Height (mm) 166mm
Width (mm) 664mm
Depth (mm) 574mm
Weight (kg) 9.8kg
Product Dimensions
Height (mm) 101mm
Width (mm) 600mm
Depth (mm) 510mm
Weight (kg) 7.9kg
Guarantee / warranty maybe subject to registration with the manufacturer

Availability: In Stock
£ 209.00
Add to Basket
Collect & Recycle available
Buy now & collect Thu 02nd Feb
Next available delivery
Fri 03rd Feb
We deliver to Liverpool and surrounding areas (North West England). Please enter your postcode below to see if we can offer you this service.