Hotpoint BI WDHG 961484 UK 1400Spin Wash 9kg Dry 6kg ( BIWDHG961484 ) Integrated Washer Dryer White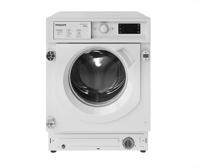 Click to enlarge photograph



Click thumbnail to select
Key Features:
Spin Speed (rpm) 1400
Washing Capacity 9kg
Drying Capacity (kg) 6
Stop&Add
Digital Countown
Start Delay
Steam Technology
Big Capacity
Height: 820 mm
Width: 595 mm
Depth: 545 mm
Guarantee - 10 years parts and 1 labour
The Hotpoint BI WDHG 961484 UK Integrated Washer Dryer comes with the intelligent Anti-Stain technology which removes most common stubborn, everyday stains in just one wash, without the need to pre-treat, thanks to clever management of detergent, water, drum rotation and temperature so you can wear your clothes time and time again. Keep your garments fresh in the most natural way by using the Steam Refresh function that freshens your clothes without the need for a full wash whilst reducing those annoying creases making it far easier to iron. This Washer-Dryer is ideal for any kitchen when you're limited on space especially if you desire your clothes to be perfectly clean and dried in one wash giving you total laundry convenience to enjoy.
TECHNICAL DATA
Dimensions
Width (cm): 59.5
Depth (cm): 54.5
Height (cm): 82.0
Performance
Energy Efficiency Class Wash/Dry cycle(Regulation (EU) 2017/1369): D
Total annual energy consumption (Washing only 200 full loads) (kWh): 234
The water consumption of the full wash and dry cycle in liters per cycle: 65
The spin speed in rpm of the eco 40-60 programme at rated capacity: 1400
Airborne acoustical noise emissions: 70
Weighted energy consumption in kWh per 100 washing cycles. Energy Label: 65
Total annual water consumption (washing only 200 full loads) (l): 12000
Programs
Delicates
Steam refresh
Spin + Drain
Rinse + Spin
Cotton 40°
Rapid 30'
Anti Allergy
Wool 40°
Synthetics
Cotton
Wool
Silk
Structural features
Installation type: Built-in
Door colour: White
Adjustable feet: Yes - all
Maximum mass in kg that can be treated in a wash and dry cycle: 6
Display type: Digit
Weight (kg): 66
Colour: White
EAN code: 5054645586189
Maximum mass in kg that can be treated in a wash cycle: 9
Loading type: Front loader
Guarantee / warranty maybe subject to registration with the manufacturer

Availability: Low Stock
£ 589.00
Add to Basket
Collect & Recycle available
Buy now & collect Sun 29th Jan
Next available delivery
Tue 31st Jan
We deliver to Liverpool and surrounding areas (North West England). Please enter your postcode below to see if we can offer you this service.